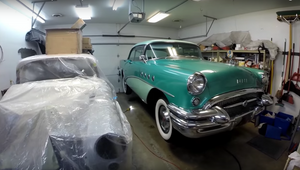 When you're restoring your classic car, you're going to inevitably need to replace or repair rubber parts throughout the project. Whether that be o-rings, gaskets, grommets, seals, or in this case, a trunk lid stop for a 1955 Buick Century.
(photo credit: Pinterest user Dave Neifer - not Mudbone's Buick)
Mudbone's '55 Buick Century is being completely restored to its former glory as an opulent coupe that competed against Cadillac as American's favored luxury brand. But with any restoration project, finding the required parts can either be difficult to source or expensive to purchase. However, those with a little bit of ingenuity can make a perfectly usable rubber part that works like the original version by creating it from Versimold.
Check out the video below to see how Mudbone created his trunk lid stop with Versimold:
To follow Mudbone's 1955 Buick Century restoration project, check out his complete playlist here.