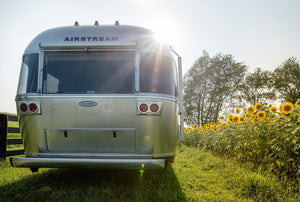 There are many products and elements from American history that have maintained themselves as quintessential Americana - icons that are inseparable from American culture and will forever define a decade or an era. Be it the Hoover Dam, the 57 Chevy, or even the Boeing 707, each of these icons have preserved a specific period of American history: the Great Depression, the automotive golden age, or the jet age. The Airstream trailer with its instantly recognizable rounded aluminum shape is no exception. 

(Photo credit: Homedsgn.com)
After WW2, America's economy was thriving. More money in people's pockets meant leisure and luxury were accessible by a larger amount of people. The automotive industry thrived and as America's network of highways expanded, so too did American's desire to travel further and further. At some point, people decided that they didn't want their travel plans to be dictated by the closest motel or lodging, but wanted to control how and where they slept. Airstream took advantage of this desire and began ramping up production. Almost overnight, Airstream became a cultural icon. No longer was the Airstream just for families looking to get away, but it served as a fashion statement for Hollywood's elite and most famous actors.

(Photo credit: Frank DiBona's Flikr)
Fast forward to today, Airstreams are still being produced with its familiar and famous shape, but there are those that believe such an icon should be an original and restored accordingly. This is precisely what blogger Reinergirl is setting out to do.

(Photo credit: Reinergirl's Blog)
With a basic foundation, a 1963 Airstream Overlander, Reinergirl is restoring the iconic trailer to modern standards. Aptly named Moonraker, this Airstream has been completely gutted to fix the underlying issues like leaking joints and rivets, rotting flooring, and a rusty frame. All new wiring and piping were installed to accommodate the new heating/cooking, washing, and electronic requirements. Solar panels were installed to assist in generating ancillary power and to charge the batteries. Completely new insulation was put around the fiberglass shell to improve efficiency. The list goes on and on and on.
So how does Versimold fit into this project? Reinergirl realized that there was a pretty severe gap on the license plate light housing which has been converted to LEDs. As with most electronics, and especially LEDs, moisture can be disastrous. To combat this, Reinergirl used gray Versimold (to match the body) to create a custom rubber gasket for the housing which ensured a perfect seal and thus eliminated the possibility for moisture to collect and ruin expensive LED lights. You can view this project write-up here.

(Photo credit: Reinergirl's blog)
Reinergirl's restoration story follows a similar tune of America's own history. One of very high highs and some very low lows (leaks!). It's not ironic then that they decided to restore one of America's greatest icons to fit our modern and more demanding lifestyle. Kudos for your bravery and thanks for letting us into your project!
Be sure to check out Reinergirl's blog for the full project write-up.