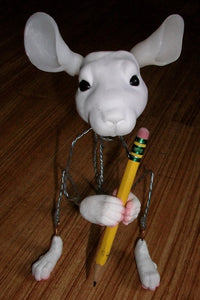 Every so often, we receive an email or call from a customer that is excited to tell us the new ways they found to use Versimold. This time though, we were blown away by the results of one very clever artist by the name of Kelsey Wilkins who creates almost life-like pieces of art and displays them on her DeviantArt profile, StorybookCreatures.
Kelsey's ability to turn a blank template like Versimold into a sculpture that almost appears to be living and breathing is not only impressive, it's inspiring. But don't take my word for it, Kelsey's art speaks for itself. Check out some of the project photos below and be sure to visit Kelsey's DeviantArt post below for more details.
To see the full detailed write-up, click here to check out Kelsey's post on DeviantArt.
Do you have an interesting project you're working on with Versimold? Let us know - we'd love to feature it on our blog!